Using Electronic Health Records (EHR) software is critical in today's healthcare market within the United States. When it comes to mental health practices, using EHR software becomes even more essential, and finding one is not an easy task either. It involves hours of research, comparing multiple EMR solutions, and choosing the one that provides the most value to your practice.
That's why, in this article, we'll look at one of the best mental health EHR software options and how it can benefit your clinic – DrChrono EHR.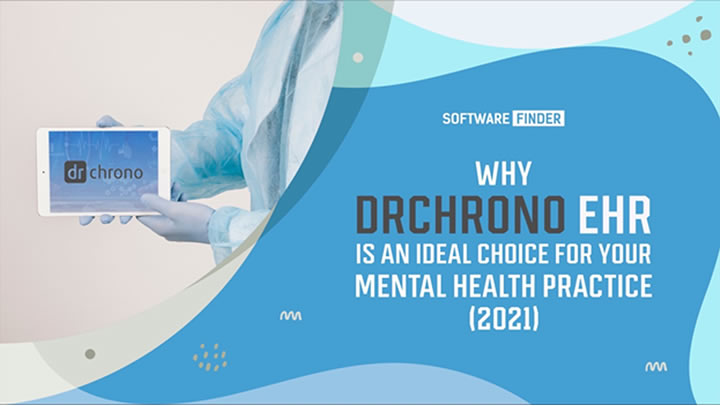 Before we get into the unique features of DrChrono EHR, let's go through some of the advantages it can offer your medical business. These are some of them:
Benefits of DrChrono EHR Software
Here are some of the top benefits of DrChrono EHR based on DrChrono reviews from Software FInder.
Scalability & Flexibility: DrChrono is an EHR that is highly adaptable, scalable, flexible, and customizable. You can ensure that DrChrono EHR adjusts to your working environment by pre-configuring your clinical forms and managing pre-built templates.
Patient Education Materials and Tools: You can share training materials on how to manage any ailment with your patients using DrChrono EHR. You can also submit information about your prescription drugs.
Improved Operational Efficiency: DrChrono EMR includes a number of tools that can help your clinical and non-clinical personnel save time and effort. Pre-built medical templates, dynamic photo charting, and speech recognition are just a few examples.
Simplified Check-In Process: You can also use your EHR software to auto-populate and update your patient's information.
Features of DrChrono EHR Software
The goal of any EHR software is to make your clinical and non-clinical workflows easier to manage so you can provide better care to your patients. This is a criterion that the DrChrono EHR excels at. DrChrono has a number of features that can help you provide better care to your patients.
Intelligent Charting: Intelligent charting is one of the most useful elements of DrChrono EHR. With this, you can automate instructions and record charts with ease using speech recognition via a third-party app like Google. This will also save you time by eliminating the necessity for manual charting. Finally, you won't have to worry about remembering codes because your EHR will take care of them.
Workflows and operations in the mental health field are frequently complicated. So, if you're doing it manually, adapting to their specific demands is difficult. This is why, instead of manually entering data, DrChrono EHR allows you to give commands via speech recognition.
Medical Billing: DrChrono billing is pretty unique when it comes to its features. You can pick and choose which services you require and leave the rest to us. So you can either undertake a billing audit with DrChrono EHR, or you can do both. Alternatively, you can use their entire revenue cycle management (RCM) solution.
They don't offer to code your medical bills for you, but they do perform a thorough review before forwarding them to the insurance companies. You can also eliminate duplicate or numerous data entries.
You can get paid faster and have fewer denied claims if your medical invoices are properly coded. Plus, DrChrono EMR guarantees a first-pass insurance claim rate of at least 96%.
Patient Portals: Unlike the traditional method of dealing with patients, which requires them to visit your practice for every little issue, DrChrono EHR Software allows your patients to access their own patient portal. What is the reason for this? They can use it to pay bills, schedule/reschedule visits, seek refills, and even communicate with their doctor.
When it comes to mental health practice, your patients may have a variety of questions and concerns. Your patient may experience an anxiety attack at work, run out of medicines, or be on a cruise where they are unable to physically communicate with you.
As a mental health professional, you must be prepared for anything in any of these scenarios.
Macros: You can create easy-to-use shortcuts (Macros) for the most frequently used functions in DrChrono EHR and access them quickly. Notes, accessing patient information, checking billing and insurance information, and so on are examples. This also saves time for practitioners by allowing them to complete tasks with only one click.
Custom Vitals: You can also keep track of each patient's individual baseline health statistics. This makes it easier to keep track of individual patients' mental health.
Mobile-Friendly: In 2021, being mobile-friendly is a prerequisite. Even today, though, few businesses understand what it means to be mobile-friendly. Healow has a thorough grasp of a mobile-friendly app, focusing on mobile-friendly call-to-action buttons, optimizing menus and options, building a minimum user interface, recommending user screen orientation, and laying out mobile-friendly touch targets.
Automated Reminders: At first look, automatic reminders may not appear to be a significant participant in the game. However, as you learn about the advantages it offers, you'll fall in love with it. These characteristics include:
Increasing Administrative Efficiency: One of the most significant advantages of automated reminders is that your personnel will no longer have to phone each and every patient to remind them of their appointments. Additionally, you can save up to $5,000 a year per staff member that spends time phoning patients.
Improving Patient Health: When a patient fails to show up for an appointment, not only does your practice lose money, but the patient's health may suffer as well. There is a benefit in aiding patients as well because automated reminders help lower the number of absent patients.
Maximizing Patient Satisfaction: When you call for a reminder, a patient may or may not pick up a call from an unknown number. They would, on the other hand, be more inclined to read an automated email or SMS message.
DrChrono Pricing: DrChrono costs between $49-$499 per month per provider depending upon your practice's requirements and needs.
DrChrono, the Ideal Mental Health EHR
Here are a few reasons why DrChrono EHR is a great fit for mental health practices. It is tailored to the specific requirements of mental & behavioural health practices and includes elements that aid in the automation of their complex procedures.
If you'd like to know more about DrChrono's plethora of services and how it can help you, contact them for a complimentary session with one of our HIT experts.