With the world at the cusp of technological transformation, technology is fast reaching a point where not a single aspect of human life can escape its effects nor survive without being affected one way or the other, with particular emphasis on businesses and how they operate.
One such example was the accounting industry which was a traditional paper and pen industry, this no longer is the case and the industry has been rapidly innovating over the last few years and is no stranger to new technological breakthroughs, accounting services which were limited to traditional services are now growing to smart solutions and advisory services.
Let's now look at the benefits of technology in business:
Firstly, technology has brought convenience to businesses like never before. Any piece of information is just a click away now!
Secondly, technology has added competitiveness in businesses as regardless of their size and volume, small businesses can conveniently compete with big businesses with the right technological integrations and investments.
Thirdly, technology has ensured increased productivity with Artificial Intelligence (AI), saving human resource costs and improving business compatibilities.
What is a Tech Start-up Business?
A Tech start-up company develops, innovates, and introduces technology products in the market and brings novelty to the existing technologies with the latest developments, research, and integrations. A Glimpse of Tech Business Hotspots in the UK
Reading and Thames Valley
Reading and Thames Valley, most commonly known as UK's silicon valley, is reported to be a swiftly escalating region in the UK with a growth rate accruing at about 2.5% in comparison to the rest of Southeast's 2%.
Who's Present Here? Microsoft, Oracle, Huawei, Cisco Systems, and Symantec are considered technological giants worldwide and the fact that such big techs have their offices here, many other tech companies are making their way into Reading and Thames Valley.
Its location is another important factor creating appeal for tech startups from the US owing to its close proximity to the UK's capital city and has easy access to traveling avenues and renowned universities.
Manchester
Manchester prides its presence on the fourth-largest turnover of £2.9bn coupled with 62,653 digital tech jobs, according to Tech Nation's 2018 report. It follows the capital city of the UK and Thames valley in being a tech hotspot.
A bunch of big names in lifestyle website producers such as LADBible Group as well as lending platform Assetz Capital operate from here too.
Who's Present Here? Around £1bn worth of unicorns is present in this region. A few famous names meriting a mention here are The Hut, Boohoo, and AO. Rapid expansion in areas of broadcast media production, animation, and gaming is a hallmark of this area.
Liverpool
Liverpool received a huge 79% rating by Tech Nation for its expansion potential in technology and is likely to be a hub of technological growth. Besides being an established base for fintech companies, this city is making its presence strongly felt in the gaming and virtual reality world.
Who's Present Here? With its sales witnessing a steep rise upwards of £1bn and incurring double-digit profit ballooning for its 2017 financial year, Collabco, a company aimed at digitizing education, operates here.
Big brands in virtual reality, gaming services, and animation services are based here and put tireless efforts to bring forth future-oriented technologies in their respective fields.
Cambridge
Cambridge has become the main source of the life science sector in the UK. It has exhibited a thriving life science tech with £2bn funding from the government dedicated to the triangle of Oxford, London, and Cambridge.
This city recorded digital turnover twice as much per staff (at £152,000 per member) than the country's average of (£99,000), which points to its tech potential, according to Tech Nation's 2018 report.
Who's Present Here? A few big brands dealing in different fields of human health like Ieso for online cognitive health therapy and KYmab for early-stage bioscience enterprise operate here.
While some big names like Apple, Amazon, and Microsoft have their offices here contributing to the technological market here.
The potential this city has for tech businesses can be corroborated by the exponential growth of Darkface, an AI-based cyber defense company, worth over £1.65bn in 2018. These facts act as inspiration for other tech companies to make their way into Cambridge from anywhere.
Birmingham
More than 500 tech-oriented businesses take root in Birmingham each year and these numbers do not seem to drop anytime soon.
As a location with the highest number of tech start-ups outside the UK's capital, Birmingham welcomed about 12,108 businesses in the year 2017 alone, according to a report released by the Centre of Entrepreneurs.
In the year 2017, this city recorded a whooping £2.2bn turnover in tech businesses. Its location and convenience of access to around 18 universities and viable transport links create immense appeal for aspirant tech businesses to locate here.
It has over 41,500 tech jobs on offer given its tech ecosystem, according to Tech Nation's recent report.
Who's Present Here? Companies dealing in health techs such as Eyoto (FKA Aston EyeTech) and Kaido operate here. Another company Oxygen Finance, which offers viable and innovative digital solutions in financial processes, is also housed here.
After walking through all the tech start-ups that have been housed across the UK and have established themselves firmly, here is why the UK is such an attraction for tech start-ups from across the world, particularly the US.
Why Should US Tech Startups Open an Office in the UK for Rapid Growth?
Funding
Start-ups can apply for a range of government grants run by the Department for Business, Energy, and Industrial Strategy. They can also try the start-up loans scheme, which offers up to £25,000 at a fixed interest rate of six percent per annum for new business ideas.
On acquiring loans, the applicants receive guidance and free monitoring of their business for up to 12 months.
Support
For support, the Department of Business, Energy, and Industrial Strategy maintains a database of schemes offering expertise and advice through Business is Great, providing information on subjects ranging from protecting your intellectual property to tax advice.
Entrepreneurs from across the globe have easy access to the Department of International Trades (DIT) and the Global Entrepreneurs Programme (GEP).
Digital Business Academy offers virtual learning to established tech businesses, to teach them the requisite skills needed to initiate, expand and join a digital setup. The government here offers low corporation tax rates in the G20 and ease to register companies within 48 hours, and more such initiatives that are geared towards incentivizing tech start-ups.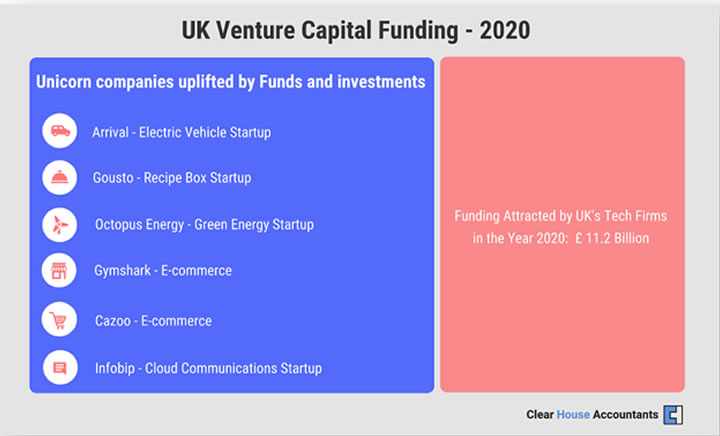 Visas
The government 2017 doubled the number of visas available through the Tier 1 (Exceptional Talent) route from 1000 to 2000 in one year.
An independent panel of experts checks the applicants in light of eligibility criteria based on Tech Nation's guidance. This body is designated by the Home Office to process visa applications.
Foreign workers wanting to run a business in the UK can apply for an innovator visa if their idea is endorsed by an authorized body and if they are from outside the European Economic Area (EEA) and Switzerland, on meeting the eligibility criteria.
A sum of £50,000 is a must as capital in investment funds for new businesses, but this requirement is automatically addressed if a visa application is already processed and the business is already established.
Connectivity
According to the Future Infrastructure Review, the UK government, in the year 2018, chalked out its plans to become a world leader in digital connectivity. The government has come up with a two-phase plan to provide access to 5G to most of the UK population by connecting 15 million premises through broadband by 2025 and provision of full-fiber broadband throughout the UK by the year 2033.
The UK government has put particular emphasis on stable and speedy connectivity through the internet. It has taken several initiatives to this effect to ensure tech start-ups have access to uninterrupted and strong internet connectivity with the business community.
Conclusion
The fact that the UK government has created viability for start-ups has proved to be an incentive for them to house in the UK and flourish regardless of their country of origin. The five hotspots and global tech giants that are there happen to act as an impetus and inspiration for other tech start-up aspirants to occupy someplace within their vicinity.
The UK also offers some of the world's top universities, creating immense appeal for people to operate their businesses in locations like London and find exceptional talent to help them grow their businesses.
To top it off you can find competitive Accountants in London to get a better understanding of the benefits you can get by moving or expanding your Tech startup to the UK while using their assistance to set up effectively.