What is a UX strategy? A UX strategy as we know is a detailed plan where you get to keep a user's experience with a brand in accordance with the desired goals and objectives of the company.
It enables organizations to match their vision with what they want their customers to experience and make it a reality while at the same time following the company guidelines.
User Experience (UX) Stats and Facts
User experience plays an important part in the success of your app and that is why it is important to make sure that you create an effective UX strategy. Below are the stats and facts that can help you understand the importance of user experience:
When the images are not loading or taking too long to load, then 39% of the individuals would stop engaging with the content.
There are 85% of the individuals who think that a company's mobile website should work better than its desktop website.
Similarly, after a bad user experience, 88% of the users are less likely to return to that website.
40% of people tend to leave a website if it is taking more than 3 seconds to load.
Importance of a UX strategy
Planning a UX Design strategy is very important as it helps to make sure that the entire product team is focused on solving the relevant problem for their target users.
Similarly, it provides a clear-cut and company-wide idea of what we need to achieve, how we are going to achieve it and a quantifiable route to evaluation after the goal is met.
Moreover, this strategy can give all the team members a better understanding of their uses thereby keeping everyone on the same page.
Lastly, it leads to improved customer satisfaction and loyalty as it offers ease and flexibility in the interaction with a product.
Basic steps to create a UX strategy
Creating a UX strategy may involve a variety of steps and we believe that by following the given steps, an excellent UX strategy can be created.
Defining your strategy carefully
The best way to create a UX strategy is to make sure that you understand what the strategy entails and whether it is in accordance with the user goals and business strategy as well. When you have a defined strategy in mind, not only would it make sense but your business shall enjoy increased ROI and enhanced productivity.
Doing proper research
This is another step you need to follow while creating a UX strategy. Your strategy should start with sufficient research because this will give you a very clear idea of "who, what, when, why, and how".
Now when you make up your mind about doing the research before creating a UX strategy, then do keep in mind that you can do research either using the quantitative method or the qualitative one. Using any of these methods is entirely up to you.
Planning user stories and scenarios meticulously
The next step is based on the research you did. Now you can easily define your users as personas and then start creating user stories, scenarios, user flows, etc. The purpose of user stories is that they address the needs, varying from user to user.
Based on all these stories and scenarios, user flow can be created as well.
Keeping your goals ambiguity free
You should be very clear on your goals because the more specified your goals are the easier it will be to understand whether they have been achieved or not. Similarly, it will also become easier to track the progress of your UX design team.
So make sure your goals aim for a specified target. Here is an example that can help you make sense of what we just said:
Vague goal: Increasing user engagement.
Clear goal: A 10% increase in not only desktop but mobile user engagement.
Exploring creative ideas
Once our goals are clear and we have done proper research, now is the time to start exploring creative ideas. You can do this the old-fashioned way that is, using pen and paper or gathering around a tea, and start brainstorming different ideas.
Once an idea is finalized, you can start adding functionality by creating prototypes.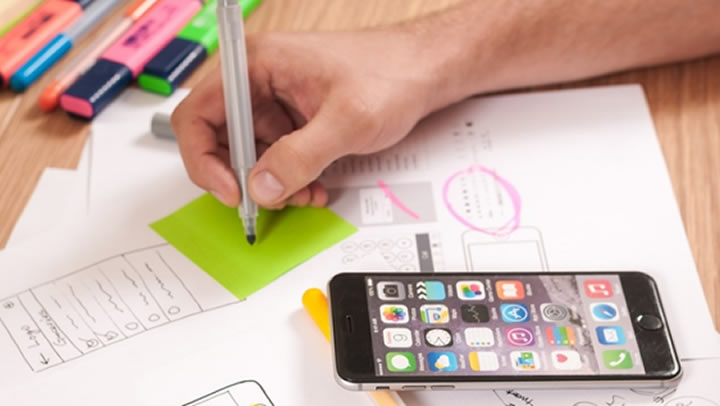 Considering communication and usability
Content is the main thing that feeds the design right? So when it comes to content, many questions can arise in our minds like; did we get the right images? Is there a need to hire a UX writer? Whether the image delivering the right message? And many more like these.
So this is the part where we need to communicate with the entire team and make sure that the product is an open ground for our targeted user and whether it is accessible and usable or not.
Beginning with the visual design process
Now at this stage, we are 100% ready to begin the visual design step. Note that this stage or step can be different for other teams as different designers have different processes that they follow.
Anyways, this step allows designers to create a style guide or a UI pattern library. Here you can also create mood boards where you can get inspiration from others as well. Similarly, you also need to think about the responsiveness of your product.
Testing your product
This is the most important step where you need to test your product. So the best strategy here is to test your product in different ways before putting it out in the real world.
Here the A/B testing is the most feasible way to assess things and we believe it is the most common way of testing. Polls and surveys are also some useful ways as it allows you to ask the opinion of your active users.
Conclusion
UX strategy without any doubt plays a vital part in a successful user experience and that is why it is best to plan out the entire strategy carefully. We believe the above-mentioned steps are not only helpful but result-oriented as well and should be considered while creating a UX strategy.