London is one of the richest cities in the world, which can make vacationing there rather expensive. However, if you have the means, then you can enjoy some of the finest things that life can offer.
Those looking to spend a no expense spared break in the city will need deep pockets firstly, but also a little guidance on where to find the most exclusive experiences.
We've rounded up some of the most lavish escapades that you can get involved in on your trip to the big smoke.
Start with a Shopping Spree
There's perhaps a no better way to start a luxury break than with a shopping spree, after all, you'll want to holiday in style. Harrods has been open since 1849, so it has had plenty of time to perfect its craft of providing the most luxury goods to its discerning customers.
Back in its early days, Harrods was known as the store that could source anything, including exotic animals like tigers and lions, down to rare gemstones.
Nowadays you'll find a wealth of luxury fashion brands, as well as sumptuous food, stunning items for your home, and of course, plenty of fine jewelry and watches. Take your time to explore everything inside, but make a little time to enjoy the scenes outside as well.
You'll usually find Ferraris, Lamborghinis, and any number of other supercars parked outside. If you're lucky you might even spot A-list celebrities visiting.
Once you've finished at Harrods, make your way to Sloane Square. It's here that you'll find lots of independent shops, as well as well-known high fashion brands. It's an altogether different experience to Harrods, but certainly no less luxury.
This neighborhood is one of the most expensive to live in out of the whole city. Also, don't be alarmed by security guards at the doors of the shops, there are some pieces that are worth hundreds of thousands, so it's totally normal for them to be well guarded.
Once you're all shopped out, it's time to head to your hotel to relax after a successful first day.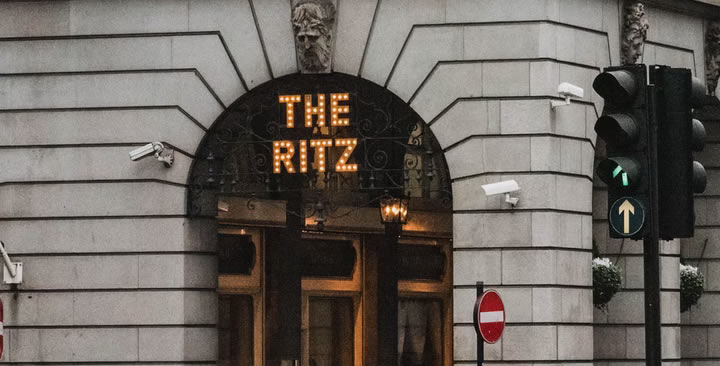 Stay at the Ritz
In order to enjoy London as though you're royalty, you'll need a hotel that's capable of treating you as such and there's nowhere more capable than the Ritz.
This 5-star hotel is located right in central London, Picadilly to be exact, and is so synonymous with luxury and sophistication that its own word 'ritzy' has been entered into the dictionary.
The Ritz was opened at the turn of the century and traded hands just twice, before 2020 when it was sold to a Qatari investor. Since then, it's undergone some further refurbishment to bring it up to a standard that even in its heyday it hadn't quite reached.
Guests can enjoy not just a wonderfully comfortable stay as far as their room is concerned but also can enjoy catering on a whole other level. In fact, in 2002, The Ritz became the first hotel in history to receive a Royal warrant directly from the Prince of Wales.
The reason it received it? For its exceptional catering, so be sure to book in at the restaurant.
If you're a little tired after a long day's shopping then the Ritz has no qualms at all about you making use of their Wi-Fi to play games upstairs in your room, or do whatever you want for that matter.
There are lots of live dealer casinos in the UK to choose from, which Vegas Slots Online has helpfully ranked according to their own rating system.
The rate online casinos on a range of attributes including the kind of bonuses that you can get, the variety of games that you can play, and the overall user-friendliness of the site. Playing in the casino downstairs might seem pretty luxurious, but there's something rather satisfying about playing from the comfort of your own hotel room.
Breakfast Like a King
We all know the saying, breakfast like a King, lunch like a Lady, and dine like a pauper. Well, if you dined at the Ritz last night, then you may have fallen at the first hurdle, but that's no excuse not to get back up and try again for breakfast!
The Mandarin Oriental is another of London's most loved hotels and it's home to the Rosebery, a stunning tea room where we'll be heading for breakfast this morning.
Try not to fall foul of posting a cringeworthy photo caption for your breakfast here, but do remember to take a photo, the food is a work of art. The Rosebery is known for its tea selection, so be sure to order a cup, and if you're not sure which blend then your waiter can recommend one to compliment your food choice.
Be sure to order from the Rosebery Classics section of the menu, as you will not be disappointed. Their French toast is to die for and is served crisp, fluffy, and warm, with homemade apricot jam, honeyed butter, fresh berries, and toasted almonds. Absolutely exquisite.