Nepal is the home of 8 high mountains among ten world's tallest peaks. They are always securing at least the top 20 countries to visit in the world by top travel sites like LonelyPlanet. Also famous for a best-valued destination in the World. We always dreamed of visiting there. Finally, we travelled to Nepal in January 2019, so we thought to share some of our experience about this beautiful country. However, words can't define our experience but I will try to share as much as I can.
At first, after we landed on Tribhuwan international airport, we head to our hotel in Thamel, a tourist hub of Nepal. After being fresh, we thought to visit around. Thamel is so lovely decorated with Prayer flags and filled with a lot of restaurants, Pub, Bars, Hotels, Tour operators, Handicraft shops, trekking equipment shops, and many more.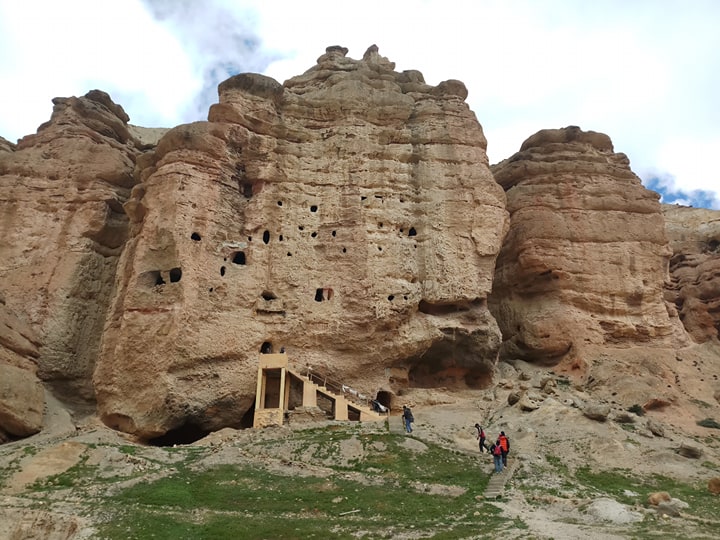 We had to leave early morning the next day to Pokhara, so we slept early. We were going to start our trek to upper mustang with our guide Saroj from next day. He was a great guy with much knowledge about all trekking trails of Nepal. He teaches us some Nepali words as well to speak with local peoples. Namaste to greet someone and Dhannewad to say Thank You we used it more than ten times a day during our stay in Nepal.
After we reached to Pokhara, we got surprised to see even more beautiful city with Lakes, temples and stunning mountain views. Next morning we took a short flight to Jomsom and started our walking from there.
I wanted to do Everest base camp, but I didn't have any trekking experience and doesn't have a habit of walking, so they recommended me to go Upper Mustang.
According to Locals, Mustang is in the rain shadow of the Dhaulagiri massif, and there will only rain exceptionally. The land surrounded by rocks valley providing the beautiful barren landscape. Settlements of whitewashed homes, barley fields and prayer flags adding a majestic scenery. Buddhist monasteries and temples, Gandaki River along the way offer the whole journey with a pleasant religious dimension.
The red cliffs and caves, the oldest Tibetan monastery in the world, the Lo Gekar Monastery were remarkable. Lo Manthang, the capital, offers some exciting Gompas, a royal palace, narrow streets and traditional houses. It's worth to take one day extra as a rest & exploration day to visit surrounding places of Lo Manthang. We stayed on a comfortable guesthouse with just a limited facility and also a limited food menu. We tried Dal Bhat for the first time during this tour.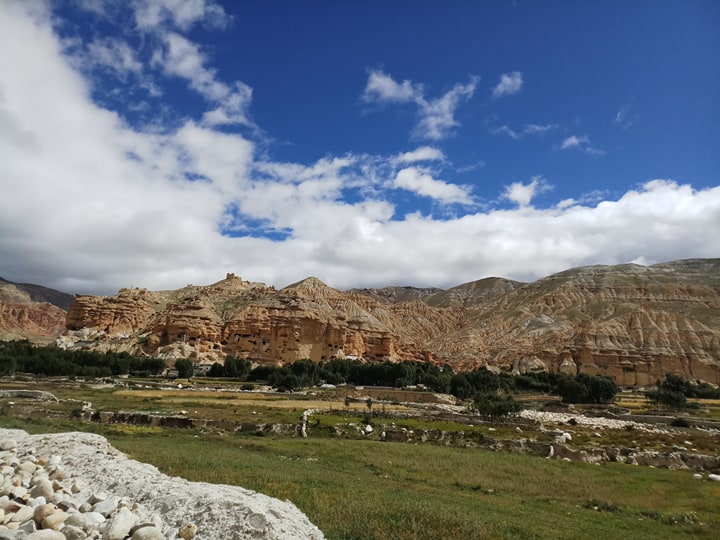 We used to walk 20 minutes a day in our country & here we had to walk 6/7 hours. We planned for ten days hike in total from Kathmandu to Kathmandu(because of our limited schedule) but unfortunately, we can't able to do it, so we took a jeep back from LomanThang to Kagbeni. On average, we walked around 5 hours a day. We spend six days going up, one day of rest and exploration in Lo Mantang and then back to Kagbeni.
Overall our experience in Nepal was excellent; the local peoples are so kind & helpful, Kids on the way to trek asking for chocolates makes adorable. Furthermore, we used a local trekking company called Up To Himalaya. I think it's because of their regularity & promoting Upper Mustang as the best trek of Nepal. Locals on the way are also so happy to serve the clients of this company. We received an outstanding service from each & every place we stayed overnight. The guide was not only helpful also a friendly became friend with anyone quickly. Always smile on his face makes our trip memorable one.
At last, I wanted to say go & visit Upper Mustang once if you love the historical and remote place with less crowd. Otherwise, it's better to go Everest base camp or other treks if you like crowded trial and mountains more the tradition and history. Furthermore, if you are thinking to visit Upper mustang trek region then go with the Guide Saroj, you will collect a lifetime memory like we are sharing now.