21% of those who have recently lost their jobs plan to borrow money from relatives, friends, or banks. Hundreds of thousands of businesses don't have sufficient funds and need outside financial help. The transaction value of the marketplace lending segment is expected to reach $85,353.5 million by the end of 2020. That makes the lending market extremely attractive.
Loan management is a profitable venture, and many businesses are implementing lending servicing software to improve accuracy and profitability. Customized solutions may help your enterprise deal with mortgages, student, personal, auto, and payday loans efficiently and better the quality of provided services. In this article, we will discuss the advantages of lending software and the reasons why using it is a great idea.
Benefits of loan management software
The international digital lending market is going to reach $12,118 million by 2023. Global digitalization and switching to mobile have significantly boosted the market growth. More and more companies turn to modern loan management systems because they have a wide range of benefits over traditional ones. Due to the Internet and cloud-based technologies, such software is fast, configurable, accurate, and provides a first-class customer experience.
Every day lending companies receive hundreds or even thousands of applications. So, modern software is crucial to treat each of them with equal attention, evaluate them individually, and make the right decision. Below we will discuss the pros of using loan servicing software and how lending software development can improve your company's profitability and performance.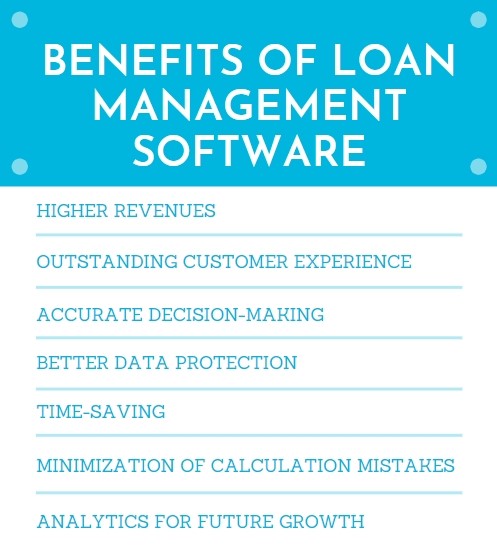 Higher revenues
One of the main strengths of lending management software is increased revenues. Due to correct risk evaluation, managing loans, and making thoughtful decisions, it is possible to improve profits significantly.
With automated solutions, enterprises receive payments more quickly and avoid risks. Quality software helps to monitor short- and long-term revenues due to built-in analysis mechanisms. Another significant advantage is that custom lending software provides scalability, so systems adjust to the enterprise's needs and contribute to its growth.
These systems also allow predicting cash flows and creating strategies that improve income. The predictive analysis may detect frauds and save hundreds or even millions of dollars. Finally, when switching from paper documents to electronic ones, you can save additional money on stationery expenditures.
Outstanding customer experience
Market competition is taut, and customers looking for the best experience and treatment have numerous options. Customers want a lending company to offer speedy loans, professional support, and automated solutions.
When using loan software, the process can start online because customers don't need to fill out numerous papers. Inputted information can be automatically added to other fields and save lots of time.
Automated lending systems can minimize mistakes and typos and even save a company's reputation. No one wants to inform a customer that their application was lost and needs to be filed again.
Another advantage of custom software concerns time. Customers feel nervous when waiting for a loan decision, so the quicker the team works, the faster the decision is made. Low-stress levels significantly improve customer experience.
Accurate decision-making
Loan management software for small businesses and big enterprises is beneficial for making the right decision. This technology eliminates numerous steps and human factor errors. Here are some examples of why automated decisions are practical:
Based on the algorithms, the system evaluates every applicant on numerous criteria like credit history, age, criminal record, over-extended credit, etc. Then it can either provide an instant approval or rejection without any workers involved.
The software integrates with side sources like Digital Matrix Systems and verifies provided data in a matter of seconds.
Automated software ensures that all regulatory requirements are met.
Based on the provided information, built-in calculators automatically offer customers the best terms.
The system safely stores digitalized paper documents, so you don't have to worry about losing precious data.
Better data protection
Security should always remain your top priority because customers indicate their sensitive information, including identification numbers and income. If stolen, clients may lose lots of money, and your company will face severe problems, including lawsuits and fines.
Some companies still keep valuable information on paper, but it can be lost, stolen, or fall into the wrong hands. When implementing lending software, documents are digitalized and stored in protected systems only accessible with passwords.
Besides, there is no need to ship digitalized papers to companies and clients, reducing the risks. Whether your employees work from the office or home, they can find the necessary documents and work with the system protected by reliable software. The latest encryption technologies and algorithms cipher data, so your clients feel safe and secure.
Time-saving
It's widely-known that automatization significantly saves both costs and time. With modern software, your employees don't need to post payments, monitor customers, create notifications for debtors, calculate loan schedules, or do other financial procedures.
Your team can save hours if delegating routine tasks to devoted software. When ordering a custom solution, you can also simplify numerous processes and concentrate time and energy on crucial tasks. With such software, your workers can process hundreds of files electronically compared to a single document manually. This is especially crucial for enterprises with vast volumes of sensitive information.
Minimization of calculation mistakes
We decided to highlight this advantage separately because calculations are crucial for the lending industry. When implementing loan management software, the number of errors significantly decreases. Your team may be extremely skilled and professional, but human errors can still happen, causing many problems.
If experienced developers create the software, it will consist of numerous tools that detect mistakes, minimize risks, and self-educate to keep up with the market trends and changes.
Analytics for future growth
When discussing the benefits of loan management programs, let us not forget about a company's improved perspectives. When applying different analytical tools, it is possible to collect priceless information about the enterprise. For example, it's budget and funding, employees, customers, and income. Instruments tailored to the needs of your company can help to find out what indicators should be improved.
Research and analysis results can show your strengths and weaknesses. Here are the things you'll be able to do when applying loan management analytical instruments:
Define markets where your company performs in the best way and create plans for conquering new ones.
Identify which criteria impact lending performance and how to attract maximum customers using these criteria.
Determine what terms and conditions help to minimize risks for both clients and your company.
Define what personal characteristics may lead to delays in payments and elaborate on a model to reduce these risks.
Identify what manual procedures can be digitalized to speed up the decision-making process.
Analytics should become an essential part of your company's routine and be present in any software you are using. With its help, it is possible to improve the efficiency of provided services, track your progress, and determine what stages should be improved. Remember, remaining competitive in the market is possible only if your company is continuously changing and evolving.
Final thoughts
Loan processing systems improve customer experience, make lending applications clear and simple, and help make accurate decisions. Customized lending software improves communication across departments and analyzes a company's long-term performance, whether commercial or private lenders.
To remain competitive in the lending market, you need to understand the benefits of loan software and hire an experienced team of developers ready to create a solution based on your needs and expectations.