Driver safety and the prevention of accidents are the two biggest reasons why companies turn to in-truck camera systems. When you search for truck cameras,  there's an endless number of options out there.
Telematics devices help with charting out the most efficient routes for delivery and tracking your vehicle. They even send data about the vehicle's journey in real-time and notify you of changes in traffic and any delays.
But they don't answer one important question – what happens when a bad event occurs such as an accident and why? Was it because of the driver, the environment, or a vehicle nearby?
This is why using in-truck camera systems matters. But before you go shopping, you should learn about the different ones available and get clarity on your reasons for choosing them. Let's dive into it.
1. Standard Truck Cameras
Standard truck cameras are your regular dashcam systems. These are strapped to the windshield of trucks. Ideal for recording the countryside view, these aren't the best if you want a clear view of the rear or back.
However, for the cash-strapped consumer, a dash cam can serve as a bit of insurance as it records footage while driving, not only to avoid accidents but also to prevent truck theft.
There are interior and exterior truck camera systems available in the trucking industry. Semi-truck dash cam systems are interior dash cams that record casual footage of the scenery.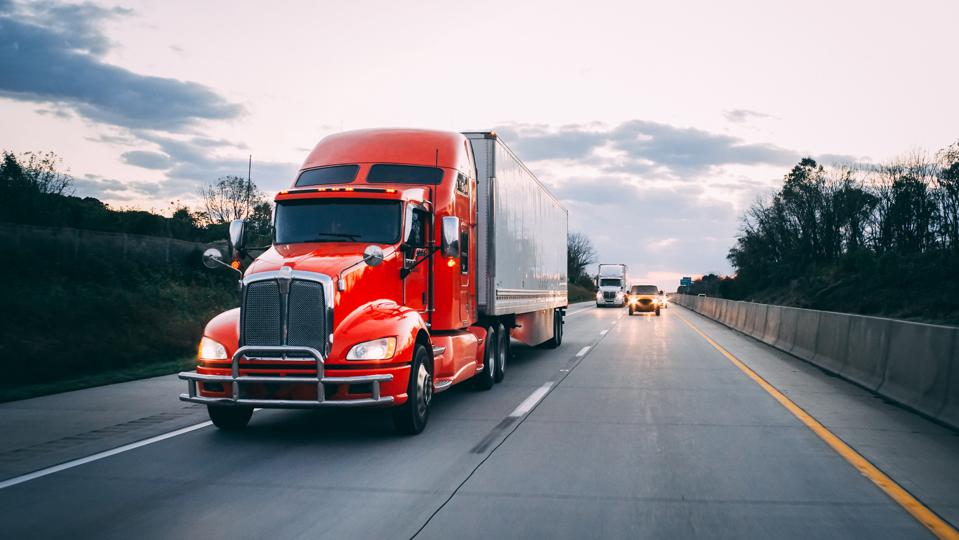 Exterior dashcam system setups are waterproof and weatherproof, thus being ideal for recording footage in different weather conditions. Fleet drivers and trucking companies prefer using a combination of both to boost the security of the vehicle.
2. Dual-Angle Dash Cams
Dual dashcams involve installing a dashcam on the front and back. If you require installing truck camera systems for the purpose of filing insurance claims later, then these work well.
Dual-angle dash cams can be mounted at different spots on the vehicle as well. The high-resolution footage recorded is particularly beneficial for trucks with challenged views and can be further enhanced with GPS tracking for fleet vehicles.
3. In-board Camera Systems
On-board camera systems are exactly what they sound like. They're installed in the cab of the vehicle and record the driver's footage. Used as a monitoring system, they may seem like an invasion of privacy at first.
No truck driver wants their every move recorded, but these systems have been shown to reduce reckless driving behaviors and document evidence in the event of any legal cases. There are statistics that back up its advantages, and these work fleet great for any company in combination with fleet management software for trucking companies.
By using asset tracking software, instant geofence alerts are sent to you remotely when your driver is on his way to deliveries. In case of any discrepancies or missing items, the tracking tool will notify you of changes, and it even maps out the engine's hours of mileage along with location history for places visited.
4. Backup Dash Cams
Backup dash cams are installed just below the rear bumper of the vehicle. This means they're exposed to environmental elements, but they give a good view of the vehicle's back. If an opposing vehicle happens to bump into your driver's vehicle, it'll record it.
One important element to consider before investing in backup dashcams is if they come with installed infrared sensors because these will allow the dashcam to gauge the distance between the truck's bumper and objects behind it in real-time and give feedback.
4. Quad Dash Cams
As the name implies, quad dash cams involve having four dash cams installed on the truck.
This gives a nice 360-degree view and gets more coverage for the footage recorded. Additionally, there are multi-lens kits available that can expand on standard and dual dash cam setups to get wider viewing angles.
Quad dash cam systems are great for covering the blind spots of vehicles.
5. AI-Powered Dash Cams
Unlike manual dash cams where the footage is constantly being recorded, AI-powered dash cams use intelligent algorithms and artificial intelligence to make informed decisions.
They start rolling and recording the scenery on their own and trigger notifications if something happens. Although a bit expensive, these are worth the investment, particularly if you have safety and trust concerns with drivers who operate dash cams manually.
Samsara has a good range of AI dash cams that protect the driver and send them instant alerts. In case they get distracted while driving or are found tailgating, the system alerts the driver via audio feedback.
Plus, the footage recorded gets uploaded automatically to the cloud for further review by companies. They are a good way to prevent false claims, and the AI technology coaches drivers on proper driving practices.
Other Things To Consider
The main issue with mounting dashcams is that they should not run up the glass and be able to rotate on a swivel comfortably. Legal restrictions are an important factor to consider before purchasing dash cams.
Some states in the U.S. have rules on where these camera systems should be mounted.
Most dash cams have a cable length of between 15 feet to 30 feet. Although this is enough for dashcams mounted outside, they're not quite enough for the interiors. If you're planning to install backup cams, you should look for greater cable lengths before mounting.
As long as the systems don't obstruct the windshield or driver's view, state laws allow mounting them.
Audio recording is not permitted by the court of law in some states. This should be discussed before deploying your in-truck camera systems, and the consent of the parties involved should be taken before proceeding.
Conclusion
Dashcams give you the comfort and evidence of recording what's ongoing out there when your truck is traveling to different destinations. They are a good way to improve an organization's efficiency by preventing losses caused by accidents.
Last but not least, don't neglect the storage capacity and lens type. More memory means more room for better HDR recordings, and a good lens goes a long way in capturing incoming incidents.