Anniversaries are special events that honor the devotion and affection shared by a couple. Be it their first or fiftieth anniversary, anniversary gifts for couples are an opportunity to reminisce about the time spent together and look forward to what's ahead.
A meaningful gift on such an occasion can demonstrate your love and gratitude towards your significant other. In this piece of writing, we will suggest ten distinctive ideas for anniversary presents that couples can consider.
Personalized gifts
Presenting customized gifts is an excellent approach to demonstrate to your significant other that you have put considerable consideration and endeavor into their present.
You can explore various possibilities, such as bespoke picture albums, wine glasses with monograms, engraved ornaments, and personalized wall decor. Consider the preferences and hobbies of your partner and pick something distinctively remarkable that will be symbolic of your bond.
Experience gifts
Experience gifts are a great way to create memories together and celebrate your anniversary in a special way. Consider booking a romantic weekend getaway, a hot air balloon ride, a cooking class, or a wine-tasting experience.
If you're on a budget, there are still plenty of affordable experience gifts, such as a picnic in the park, a hike in the mountains, or a bike ride along the beach. The important thing is to spend quality time together and to create new memories.
Jewellery
Jewellery is a classic anniversary gift that's always appreciated. Consider a piece that's significant to your relationship, such as a necklace with your initials or a ring with your birthstones.
If you're celebrating a milestone anniversary, consider a more expensive piece, such as a diamond necklace or a luxury watch. Jewellery is a timeless and thoughtful gift that your partner will cherish for years to come.
Home Decor
If your partner loves decorating and creating a cozy home, consider a home decor gift for your anniversary.
A beautiful vase, a set of scented candles, a cozy throw blanket, or a set of decorative pillows are all great options. Consider your partner's tastes and preferences when selecting a gift, and choose something that will complement your home and your relationship.
Tech gadgets
If your partner is a tech lover, consider a new gadget for your anniversary gift.
A new smartphone, a smartwatch, or a set of wireless headphones are all practical and useful gifts. If your budget allows, consider a new laptop or tablet, or a home automation system that will make your home more efficient and convenient.
Technology can bring couples together, and a thoughtful tech gift can be a great way to show your love and appreciation.
Subscription services
Subscription services are a great way to give your partner a gift that keeps on giving. Consider a subscription to a streaming service like Netflix or Hulu, a monthly delivery of gourmet coffee or tea, or a wine club membership.
If your partner loves reading, consider a subscription to a book club or a magazine.
Subscription services are a great way to surprise and delight your partner all year long.
Artwork
Artwork is a great way to add personality and style to your home, and it can also make a thoughtful anniversary gift. Consider a painting or print that's meaningful to your relationship, such as a landscape from your favorite vacation spot or a portrait of your pets.
If you're not sure what kind of art your partner likes, consider a gift card to a local art gallery or online art store.
Outdoor gear
If your partner loves spending time outdoors, consider an outdoor gear gift for your anniversary. A new camping tent, a set of hiking boots, or a kayak are all great options. If your budget allows, consider a new mountain bike or a set of skis or snowboards.
Outdoor gear can be expensive, but it's a gift that your partner will enjoy for years to come.
Personalized anniversary journal
A personalized anniversary journal is a thoughtful gift that your partner can use to reflect on your relationship and document your memories together. You can include special dates, photos, and messages throughout the journal, and your partner can add their own thoughts and memories over time.
This gift is a great way to celebrate your love and commitment and to create a keepsake that you can look back on in the years to come.
Travel gift card
Celebrate your anniversary with the gift of travel by presenting your partner with a MakeMyTrip Anniversary Gift Card for Couples. This gift card opens up a world of possibilities for romantic getaways and exciting adventures.
Whether it's a serene beach vacation or an adrenaline-pumping trek through the mountains, this gift card allows couples to choose a destination and create cherished memories together.
It's the perfect gift for couples who love to explore new horizons and embark on unforgettable journeys.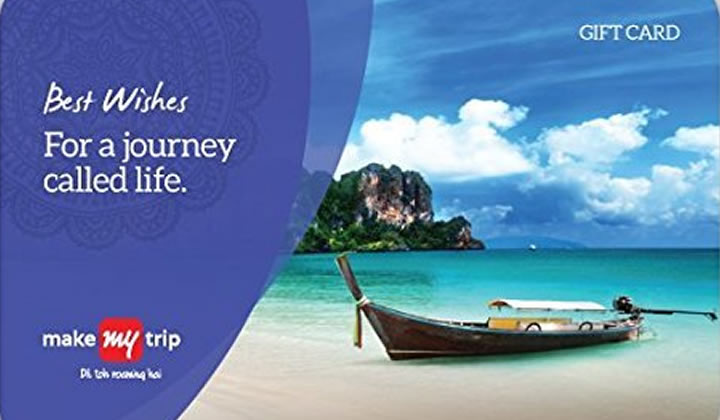 Surprise your partner with a MakeMyTrip travel gift card and let your anniversary be a celebration of love and travel.
Conclusion
To sum up, there exist numerous considerate and imaginative gift suggestions to commemorate your anniversary with your significant other. Consider your partner's likes and dislikes while picking a present, and opt for something distinct and exceptional to honor your bond.
Irrespective of whether you settle for a bespoke item, an experiential gift, or the customary ones such as jewelry or blooms, what matters most is expressing affection towards them and rejoicing in the moments shared.
Beyond the assortment of gift concepts highlighted in this piece, there are also specialized gift cards catered to couples commemorating their anniversary.
The MakeMyTrip Travel Gift Card for Couples is a fitting present that grants access to various travel and vacation options across different destinations. Ideal for pairs with a shared passion for exploring new horizons together.
This versatile card allows them to plan either an intimate escape or a thrilling adventure, paving the way toward a truly unforgettable celebration. Ultimately though, what matters most is recognizing and cherishing the profound bond between two people through meaningful gestures like these.