The market is mainly driven by the differentiated needs of users participating in transactions, rather than its intrinsic motivation. The DeFi market is also a derivative product of digital assets trading and it comes in the form of collateral in options trading. However, the emergence of decentralized derivatives contracts has accelerated the expansion into the current DeFi market.
Benchmarking against dYdX, why is SheepDex so confident to compete in the DEXs market?
As the number of users in major cryptocurrency exchanges increases, ordinary users who are keen to trade tend to fear having insufficient liquidity in a bull market and to trade in a bear market. And as a result, derivatives trading is often the most practical for the more small and medium players in the market.
In addition, the underlying purpose of derivatives trading for centralized exchanges is actually to facilitate a boom in spot trading. Derivatives and smart contracts are primarily designed for stability, which is obviously difficult to meet the needs of the users. That's why we need DEXs (decentralized exchanges) in order to fill the gap.
DYdX and other exchanges have successively launched various staking contracts based on blockchain-based derivatives. Derivatives trading with additional leverage is also considered to be one of DeFi's most promising products as DeFi's innovations evolve further.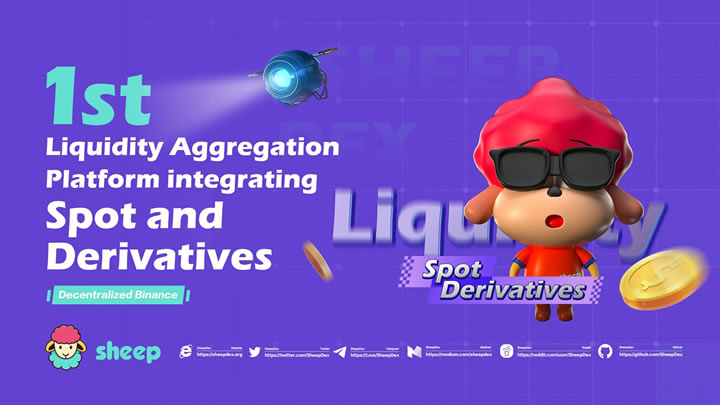 SheepDex, an unexpected winner based on BSC, is about to outshine its peers in the market of blockchain derivatives. Compared with dYdX, SheepDex has a focus.
dYdX
DYdX, a previous leading derivatives product, raised $65 M in Paradigm-led series C and officially launched the token dYdX on September 8th. Currently, dYdX is the world's largest decentralized trading platform, with 24 trading volumes exceeding $1 billion and a market share of more than 28%.
DYdX adopts the mode of 'off-chain order book + on-chain settlement' for the transactions, including three functions: lending, leveraged trading and perpetual contracts.
Leveraged trading includes the function of lending. The funds deposited by users will automatically form a liquidity pool. When trading, they will automatically lend and offer trading fees when there is insufficient liquidity. However, for the consideration of risk control, dYdX has limited the trading assets, and its leveraged trading is only friendly for bulk trades.
Due to the issue of market depth, you can only trade using taker orders (cannot trade using maker orders) if a single order is less than 20 ETH and the high taker fees have to be paid in order to cover the gas costs.
SheepDex
Benchmarking against dYdX, why is SheepDex so confident to join in the competition with other DEXs?
SheepDex is a decentralized cross-chain liquidity aggregation platform, which allows liquidity providers (LPS) to deploy funds within a certain price range, thereby improving the utilization efficiency of funds and reducing the trading slippage within the corresponding range.
SheepDex (SheepDex.org) is a decentralized cross-chain liquidity aggregation platform based on the integration of spot and derivatives on BSC (Binance Smart Chain). Unlike other decentralized exchanges that focus on the spot, it is the first DeFi product where spot and derivatives coexist.
Participating in SheepDex can obtain LP rewards and transaction mining rewards, while allowing liquidity providers (LPs) to deploy funds within a certain price range in trading pairs, and reward transaction fund providers, thereby improving the utilization efficiency of funds, further focusing on the depth of transactions, providing end-users with better liquidity, and promoting the transaction and clearing of derivatives.
Among SheepDex's derivatives products, perpetual contracts with zero funding rate are the core innovative products, and contract products such as leveraged tokens will continue to be launched. SheepDex aims to be a decentralized Binance.
The vision of SheepDex is to become a leading platform for derivatives and help users trade derivatives fast, transparently and easily on BSC. The most important highlight of its design is the leveraging of the V3 range-order system with super liquidity, which is also a pain for current derivatives trading protocols. SheepDex has implemented liquidity concentration and the increased market depth through V3 to enable settlement and clearing of derivatives.
Unlike dYdX, SheepDex adopts VAMM (Virtual AMM) mechanism to create perpetual contracts with zero funding rates by correcting prices through Oracle. This makes the gas costs lower and zero funding rate on the BSC, which will be more user-friendly. A handling fee is fatal to users who hold a perpetual contract for a long time.
SheepDex has attracted more and more attention from institutions and users. SheepDex has been invited to BSC 1st Anniversary Online Carnival as one of the popular projects, though it had not been released yet.
At present, the SheepDex beta TestNet competition is underway. Users have the chance to get airdrops participating in the competition. You can now experience V3 liquidity strategies. It will also launch its MainNet in a few days, which is worth looking forward to.
Conclusion
Beyond doubt, whether in spot trading or blockchain derivatives trading, the choice is always in the hands of the users. The key to ultimately leading the derivatives market is that who can innovate more in the technological field and user services for the market today.
Website: https://SheepDex.org
Twitter: https://twitter.com/SheepDex
Telegram: https://t.me/SheepDex